Well Olamide i'm guessing this man needs no introduction! So 1st of all Adoration; 'Agbowokariowona' which roughly translates to mean the one who piles up money only to distribute without any stress. Erinfolawolu (The elephant which strides into the town with all majesty and candour), Agbelesona bi Oyinbo (He who resides at home while spinning wonders like the whites), Apesinola of Ijebuland, He is also known as Aneye Toto (Fine Boy), a nickname that was known only to his closest friends and relatives until KSA released the song in his honour.
This well fed African is the 2nd richest man in Nigeria according to Forbes which automatically activates him as the richest Yoruba on earth.

People keep pointing fingers at me for having a soft spot for this bull, some school of thoughts believe its because he hails from my village (ijebu igbo) while others concluded it has to be because he was born in a place I regard as my second home (Ibadan). But all the Love and Affection i av for him would av resulted to a hard spot if he wasnt THE PILLAR OF AFRICAN SPORTS!
I can only remember but a few of what this philanthropist has contributed to the growth and development of sports in Nigeria and Africa as a whole.
Lets go back memory lane;
August 29 2003, Dr Mike Adenuga's owned Glo commenced its business, a couple of months later Globacom had made instant impact and it did not take them time to glow into sports. Just months in business Nigeria was to host the greatest sports show in Africa, the All Africa Games. Glo did not want the event to suffer and had to lend a hand financially. They became the official GSM partners of the Local Organising Committee, LOC.

He marched on. He became the sponsors of the
Nigeria Premier league,

National football teams at all levels
Nigeria football Supporters Club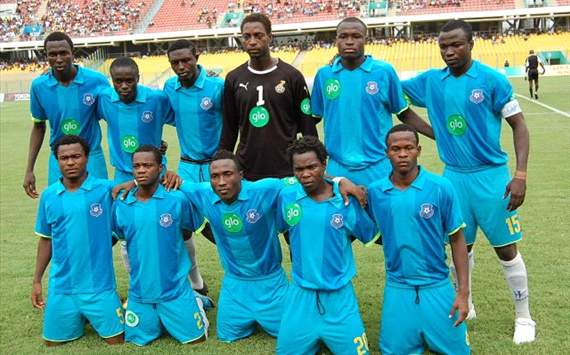 Ghania Premier League
Ghana football National Team
Ghana football supporters club
He went into athletics and sponsored the Lagos Half Marathon.
West Africa Golf tour (biggest golf tour in West Africa),
He has had a hand in Squash.
The contributions of Otunba to the upliftment of the Nigerian league standard reached a milestone in 2004, when a Nigerian club, Enyimba International FC, sponsored by him, won the African Champions League and successfully defended the trophy the following year. It also marked the first time in the history of the competition that a club had won the competition back-to-back.
March 17, 2005 at the historic Ritz Hotel, Paris, France, marked the dawn of a new era for Nigerian football. On that fateful day, Mike Adenuga leading Globacom officials signed a contract with the Confederation of Africa Football (CAF) vesting the title and marketing rights on the nation's national carrier for the CAF awards.
in 2007 when Nigerians were crying for oyinbo coach, he single handedly sponsred the salary of former world cup winner Berti Vogts who was being paid a whooping sum of $300 000 per annum making the German the 8th highest paid national team coach in the world at that time.
When Nigeria hosted the Under 17 FIFA World Cup in 2009 he was one of the sponsors.

In march 28 2012 At a luncheon held at Eko Hotel, Lagos, on March 28, the management of Manchester United FC honoured Dr. Adenuga, for his comprehensive contributions to sports and the Glo-Manchester United relationship.

Presenting a specially autographed branded Manchester United number 10 jersey and a framed, autographed soccer boot to Dr. Adenuga, the Associate Director, Communication and Relationship, Manchester United, Ricky Thussu, described the partnership of the world's most valuable football club with Globacom, one of the 10 biggest brands in Africa, as mutually rewarding, complementary and valuable.
At the Banquet Hall of Dr Mike Adenuga's residence in Maitama, Abuja, he presented a cheque for N160 million to the Super Eagles for winning the 29th edition of the Africa Cup of Nations.
He also gave Stephen Keshi a whooping sum of 200, 000 dollars.
A couple of months later he presented a Range Rover SUV and Toyota Camry with a posh apartment in Victoria Island of Lagos, The Egungun Of Africa Sports also took charge of Keshi's $32,000 monthly salary.
If i continue to write about this fellow Ijebusite, ile a su( night will meet me here), ile a mo (dawn will dawn too).. so lemme drop my golden pen here.lol
Dele Momodu said "Dr. Adenuga is the biggest investor in the development of sports in Africa today. He must take substantial credit for the recent victory of Nigeria at AFCON 2013 in South Africa. He was the benevolent man who resurrected the comatose Nigerian Football League, just like he has helped Ghanaian football to witness sporadic boom"
Indeed, big Mike is God's work in progress on African sports. He deserves our prayers and warmest congratulations.
60 bouquets for the bull for putting Nigerian Football on the map once again…