Spurs 120, Lakers 89
The result - the Lakers' worst home play-off loss in franchise history - saw San Antonio take a commanding 3-0 lead in the best-of-seven series. Tim Duncan had 26 points and nine rebounds while Tony Parker added 20 points and seven assists as the Spurs took control early and put themselves in position to sweep the series in Sunday's Game 4 in Los Angeles.
The Lakers have not been swept in the first round of the play-offs since 1967. Dwight Howard had 25 points and 11 rebounds, Pau Gasol had a triple-double with 11 points, 13 rebounds and 10 assists and second-year guards Darius Morris and Andrew Goudelock scored 24 and 20 points, respectively, for the Lakers, who were forced to play without their top four backcourt players.
In addition to Kobe Bryant (Achilles), the Lakers were missing guards Steve Nash (back/hamstring), Steve Blake (hamstring) and Jodie Meeks (ankle).
Duncan, who turned 37 on Thursday, finished 12-of-16 and San Antonio shot a blistering 61.2 per cent.
Knicks 90, Celtics 76
Carmelo Anthony scored 26 points as the visiting New York Knicks took a commanding 3-0 lead in the Eastern Conference play-off series against Boston. Raymond Felton had 15 points and 10 assists and J.R. Smith added 15 points before he was ejected in the fourth quarter as the second-seeded Knicks moved within a win of a series sweep.
Game Four in the best-of-seven series is on Sunday in Boston.
Jeff Green scored 21 points and Paul Pierce added 17 for the Celtics, who came out surprisingly flat following a pre-game ceremony in which the team honoured local police and first responders of the Boston Marathon bombing.
Warriors 110, Nuggets 108
Stephen Curry shook off a left ankle injury and collected 29 points and 11 assists to lead host Golden State to a 2-1 series lead over Denver. Jarrett Jack added 23 points and Harrison Barnes and Carl Landry scored 19 apiece as the Warriors won their first home play-off game since 2007. They will try to take a 3-1 lead in the best-of-seven series on Sunday.
Ty Lawson recorded 35 points and 10 assists but had a crucial turnover in the final seconds as the Nuggets fell short. Corey Brewer scored 16 points and Kenneth Faried chipped in 15 in the setback.
OKC 104, 101 Houston Rocketts
The Oklahoma City Thunder took a rollercoaster ride to victory in their first game without All-Star point guard Russell Westbrook. The Thunder squandered a 26-point second-quarter lead before Kevin Durant received a friendly bounce on a critical 3-point attempt in the final minute of regulation to help lift Oklahoma City to a 104-101 win over the Houston Rockets in Game 3 of their first-round Western Conference playoff series Saturday at Toyota Center.
Durant matched his playoff career high of 41 points and grabbed 14 rebounds for the Thunder, who took a commanding 3-0 lead in the series and will have a chance to complete the sweep Monday in Houston.Serge Ibaka added a double-double of 17 points and 11 boards, seven of which were offensive. Second-year guard Reggie Jackson, making his first career start in place of the sidelined Westbrook, contributed 14 points.
James Harden paced the Rockets with 30 points, eight rebounds and six assists, but he misfired on one-third of his 15 free-throw attempts. Chandler Parsons finished with 21 points on 8-for-12 shooting, seven rebounds and seven boards, while Francisco Garcia exploded for playoff career bests of 18 points, five rebounds and three blocks off the bench.
Hawks 90, Pacers 69
Al Horford had 26 points and 16 rebounds as Atlanta turned things around dramatically in its playoff series against Indiana, blowing out the Pacers in Game 3.
Playing with much more urgency than they did in two double-digit losses at Indianapolis, the Hawks raced to a 54-30 halftime lead and narrowed the best-of-seven series to 2-1. Game 4 is Monday night in Atlanta, where the Hawks have won 12 straight over the Pacers dating to 2006.
The Hawks changed up their lineup — inserting 7-footer Johan Petro at center and bringing 3-point specialist Kyle Korver off the bench — after getting manhandled on the road. With more favorable matchups and a lot more energy, Atlanta suddenly made a series of it.
Grizzles 104, Clippers 83
Marc Gasol had 24 points and 13 rebounds, and Memphis beat Los Angeles to even the first-round playoff series at 2-all.
Zach Randolph finished with 24 points and nine rebounds as the Grizzlies won their second straight to ensure another stop in Memphis for Game 6. Mike Conley had 15 points and 13 assists, and Tayshaun Prince scored 15 in his best game of the series.

Chris Paul and Blake Griffin had 19 points apiece for the Clippers, and Griffin also grabbed 10 rebounds. Los Angeles' reserves outscored its counterparts again, 43-16. But DeAndre Jordan was the only other starter to score for Los Angeles, and he had two points. Chauncey Billups and Caron Butler went a combined 0 for 10 from the floor in being shut out.
Chicago Bulls 142, 134 Brooklyn Nets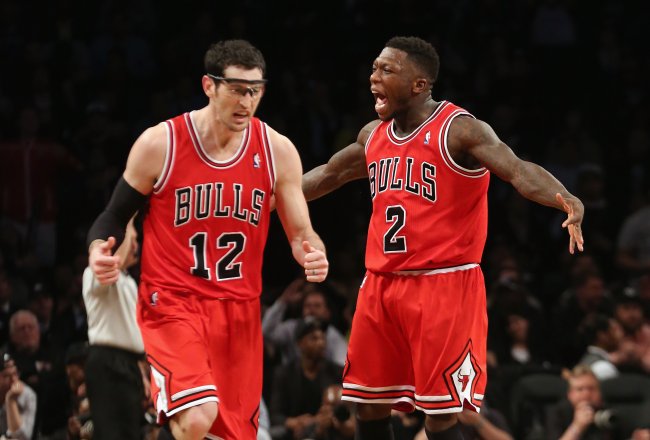 The Chicago Bulls took a commanding 3-1 series lead in their triple-overtime win against the Brooklyn Nets Saturday, 142-134, but the Nets certainly did their best to drag this one out. The Nets came onto the court at the United Center much feistier than they have been in the past two games.
Deron Williams was the difference-maker for the Nets in the first three periods. He was not only able to knock down his jumpers, but also get loose and get to the rim, setting up his teammates over and over again. It was definitely a bounce-back game for him.
Williams put up 32 points and 10 assists in the game, but he only scored two points in the final 20 minutes.
Game 4 was all about Nate Robinson, as he came off the bench to score a game-high 34 points. He scored 23 of his points in the fourth quarter to bring the Bulls back from a 14-point deficit.