If Gulbis is given the chance, he will smash the big 4 out of the game
Outspoken Latvian Ernests Gulbis, one of the game's biggest talents, delivered the damning verdict on Roger and Co after being knocked out of the French Open by Gael Monfils.. Amid the tennis-unfriendly weather in France, the 25 yr old
livened things up when he called the top tennis players in the world pretenders.
Rafa Nadal
'Tennis today lacks characters. I respect Roger, Rafa, Novak and Murray but all four are boring players,' he said in an interview with French daily
L'Equipe
.
Roger Federer
'Their interviews are boring, they are rubbish. It's a joke. It is Federer who started this fashion. He has a superb image of the perfect Swiss gentleman.
'I respect him but I don't like it when players try to imitate him. If I win, the guy on the other side of the net, I have sent him home. I don't want to hear an interview with a guy I will not name, but who I know full well thinks all his opponents are a***holes, putting on an act.
Novak Djokovic
'I have no interest in appearing nice. On the court it's a war. I would like interviews to be more like boxing, they bring what the fans want: war, blood, emotion. In tennis everything is clean, polite and false handshakes.'
Andy Murray
Asked if he would like to influence things by sitting on the ATP Player Council, the world No 40 said: 'It would need the top players to change things, but they are rather happy the smaller players are treated like s*** and that they have money for good coaches.'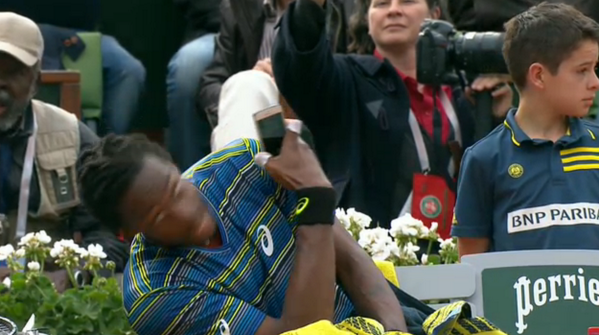 Gulbis went down 6-7, 6-4, 7-6, 6-2 against the popular Monfils, who at one changeover got out his mobile phone to take pictures of the crowd.