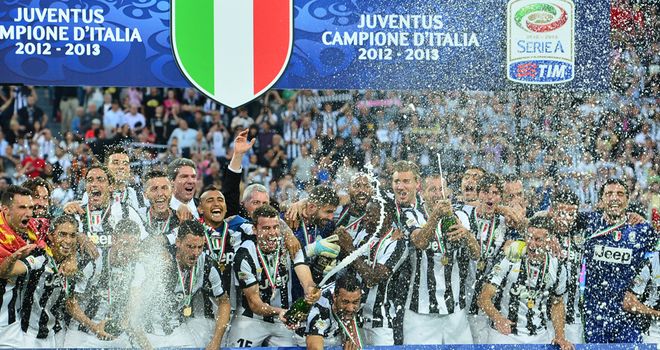 Bianconeri supporters were treated to a night to remember as the team capped off another magnificent campaign by lifting their second consecutive Scudetto trophy in front of an adoring public at Juventus Stadium.
This is the old lady's 29th official serie A title, but the Juventus fans believe its 31, as they were stripped of the 2005 and 2006 titles due to implications in the Calciopolli scandal. The Turin side were relegated to the SerieB in the aftermath of the scandal.
The Biaconneri won promotion back immediately and they have remained a force to reckon with, claiming 2 Serie A titles.
Speaking to reporters, Giorgio Chiellini said: "The reason why we've sealed this Scudetto title so early is because we've never given up over the course of the campaign.
"We faced Bayern, the best team in the world, but never lost sight of our objective. The defeat against Inter was a slip-up that brought us back down to earth and after a sticky patch in January we set off again. We deserve this title."
the 28 year old then went on to talk about the long term injured colleague Simon Pepe;
"I'm very close to Simone Pepe and he's suffered a great deal this season. I hope to see him back in action, making a decisive contribution as he did last season."
He also paid tribute to his cocah Antonio Conte: "We're in the thick of our cycle, of which he's the main architect. We want to develop together and continue following him.
Claudio Marchissio said: "The supporters have enabled us to enjoy another exciting day, they've come here in numbers to celebrate with us. We wanted to win for them and for the record, but this draw doesn't take anything from a team that has been doing great things for two years.
The captain and shot stopper revealed after the match that they have many leaders in their fold;
"I'm happy, because it takes a long time to become captain of a team. But winning two years in a row means the squad has many leaders. I'm referring to Chiellini, Marchisio, Pirlo, Vidal, Bonucci."
"To do that, both us and other European sides need to improve in order to catch up with Bayern Munich, who are currently two steps ahead of the rest. What's more, if they win the Champions League, they'll strengthen the team even further, so it will be a difficult task.
"Having said that, winning competitions like the Champions League can depend on luck: one less mistake, an extra save or a more favourable draw."