It seems Emmanuel Adebayor will be shown the exit doors at Spurs as he's been excluded from the Tottenham first team and told to train with the club's reserves.
If the Premier league title is to be awarded to the team that competed the most in the transfer market, there's no atom of doubt that Tottenham Hotspur will win their first ever premier league title as they spent a whooping sum of £106 million over the summer. An area the north London club really strengthened was the forward area bringing in record signings Roberto Soldado and Erik Lamella into the mix, and also with English forward Jermain Defoe everpresent in the team, Emmanuel Adebayor's chances of a starting berth has been hampered.
Some times last week, The Togolese striker was confident of cementing a place in the starting XI, insisting he would "be the first (choice)", But a quick return to the first team now appears unlikely for the former Arsenal and Manchester City striker,with Villas-Boas revealing today in his press conference that Adebayor has been instructed to train with the reserves.
Villa-Boas said: "At the moment Ade is not with us,because we have granted him authorisation to stay up until Monday in his country for personal reasons,so he's not going to be involved against Norwich (on Saturday),"
"Up to when I find it appropriate, he will train with the development team."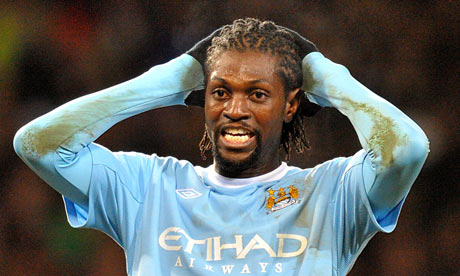 Adebayor joined Tottenham on loan from Manchester City in 2011 following a short-term stint with Real Madrid. He made immediate impact by finishing the 2011-12 campaign as the club's top scorer with 18 goals and then made a permanent move in August 2012, However the 29 year old was not able to reproduce that form last season, managing 8 goals in 34 appearances.
This would be the second time Adebayor would be instructed to train with club reserves, He had a similar experience at the Ethiad stadium under former City boss Roberto Mancini.