Finally, the most anticipated book in a while is out and as expected, the ALEX FERGUSON autobiography was always going to unwind some behind the scene incidents in which most of us never knew about, sit back, relax and enjoy the best bits of the hottest book on earth right now.
David Beckham - "He fell in love with Victoria and that changed everything"
"I hold no rancour towards David at all. I like him. He's a wonderful boy. But you should never surrender what you're good at," writes Ferguson, before laying in to the midfielder.
"He lost the chance to become an absolute top-dog player ... he never attained the level of an absolute top player… He started to make decisions that rendered it hard for him to develop into a really great footballer. That was the disappointment for me. There was no animosity between us, just disappointment, for me. Dejection. I would look at him and think 'What are you doing, son?'…
"David was the only player I managed who chose to be famous, who made it his mission to be known outside the game."
On the famous incident in which Ferguson kicked a boot across the changing room at half-time, hitting Beckham and leaving him with a gash on his face: "He rose to have a go at me and the players stopped him… [then he wore an Alice band that] highlighted the damage inflicted by the boot. It was in those days that I told the board David had to go. The minute a Manchester United player thought he was bigger than the manager he had to go…
"David thought he was bigger than Alex Ferguson. There is no doubt about that in my mind."
Roy Keane - "The most savage tongue you can imagine"
Ferguson's former captain is one of the hardest-hit targets in the book, described as "intimidating and ferocious.
"The hardest part of Roy's body is his tongue. He has the most savage tongue you can imagine. He can debilitate the most confident person in the world in seconds with that tongue. What I noticed about him that day as I was arguing with him was that his eyes started to narrow, almost to wee black beads. It was frightening to watch. And I'm from Glasgow."
Ferguson adds that Keane "crossed a line" by blasting team-mates in an MUTV interview, which was never broadcast.
"Roy came up to see me and I told him, 'What you did in that interview was a disgrace, a joke. Criticising your teammates. And wanting that to go out...
"[Carlos Queiroz] called it the worst imaginable spectacle in the life of a professional football club. 'He needs to go, Carlos,' I said. 'One hundred per cent,' he said. 'Get rid of him.'
"I belive - and Carlos Queiroz was at one with me on this - that Roy Keane's behaviour pattern changed when he realised he was no longer the Roy Keane of old. I think he could see the truth of what we were saying to him, but to surrender to it was too threatening to his pride. He thought he was Peter Pan."
Wayne Rooney - "He could be swallowed up by a lack of fitness"
Ferguson confirms that Rooney asked to leave, walking into the managers' office a day after the title-winning victory at Aston Villa when he "asked away". Rooney's agent Paul Stretford then phoned David Gill to confirm that his man wanted to go.
But Ferguson admits that Rooney is now in superb form, adding that "of course" he'd be in the team every week under Fergie given how he's now playing - and how fit he now is.
"Wayne needed to be careful. He has great qualities about him, but they could be swallowed up by a lack of fitness. Look at the way Ronaldo or Giggs looked after themselves. Wayne needed to grasp the nettle.
"He would receive no leniency from me. I would hammer him for any drop in condition. It was quite simple. He wouldn't play. That's the way I always dealt with fitness issues, regardless of the player involved, and I saw no reason to change in the final years of my career.
"In my final year, when he was left out a few times, and replaced in games, I felt he was struggling to get by people and had lost some of his old thrust."
Ruud Van Nistelrooy - "The whole episode was very sad"
The Dutch striker asked for a transfer repeatedly in 2005 and 2006, and reacted furiously when being left on the bench during the League Cup final - apparently shouting at Ferguson "You c***!"
"I'll always remember that. Could not believe it. It became fractious in the dugout. The other players were telling him: 'Behave yourself.'
"That was the end of him. I knew he would never get him back. He had burned his boats. After that incident, his behaviour became worse and worse.
"The whole episode was very sad. Why Ruud changed, I don't know."
Arsene Wenger - "Sharp change in him when the whistle blew"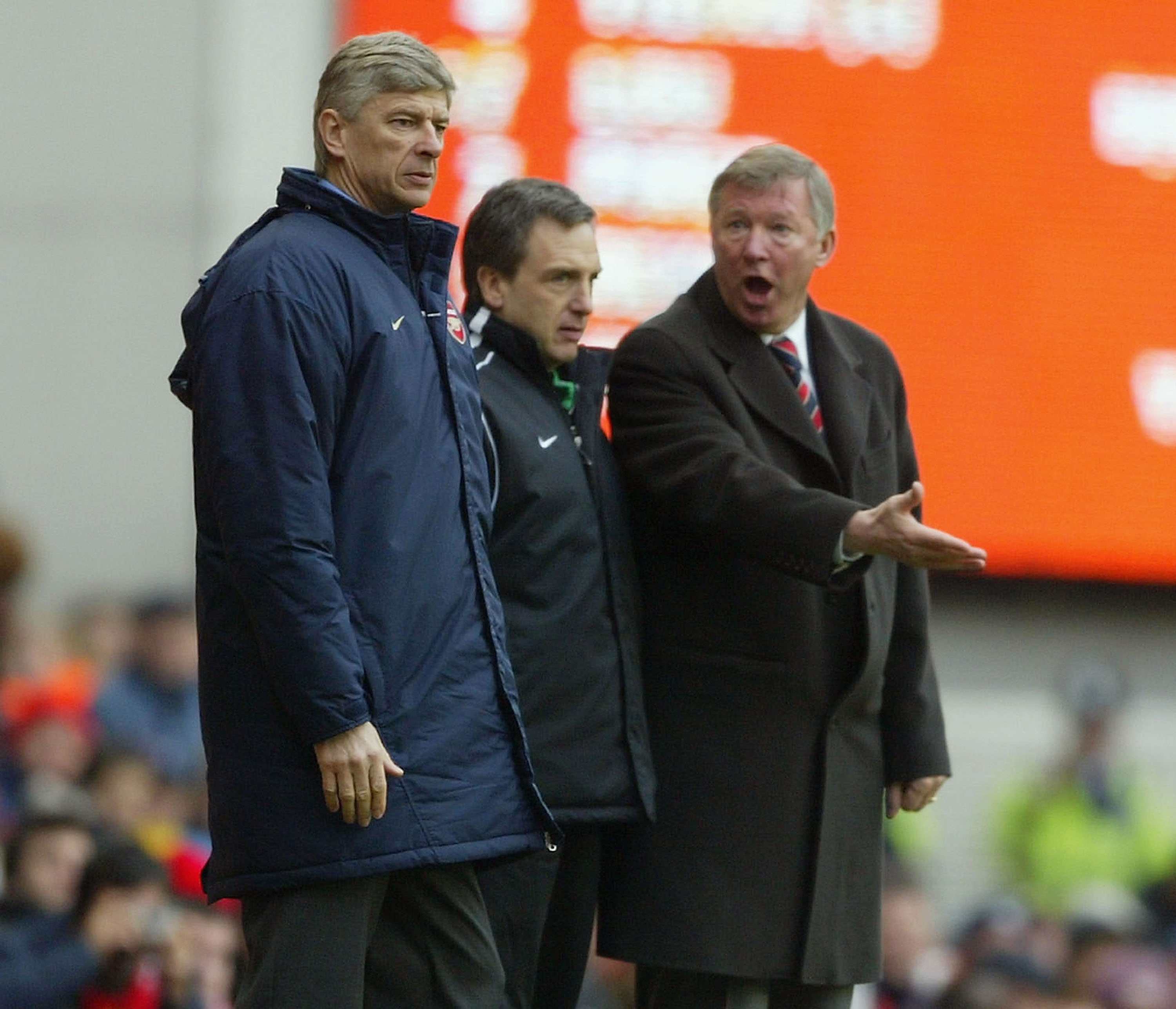 Wenger was "incredulous" at United refusing to pay £25m for Robin Van Persie: "I told him again: I wouldn't go to £25m. Arsene asked what my best offer would be. Answer: £22m. The reply was that Arsenal would take £22.5m and a further £1.5m if we won the Champions League or Premier Leaguer during the period of his contract. Deal done."
The Arsenal boss is painted as Ferguson's nemesis for much of his career in less than flattering terms: "he is a diligent member of our trade". But says he has shown his "softer centre" later in life, and given his "sharp change in him when the whistle blew" they have built a reasonable off-pitch relationship in which they discuss a shared love of fine wine.
Manchester City - "They were not in the right state of mind to defend the title"
"They couldn't call on enough players who understood the significance of what they had achieved by winning the league for the first time in 44 years. Evidently it was enough for some of them to have beaten Manchester United in a title race.
"They settled down into a sense of relief. Retaining a title is the next step and City were not in the right state of mind to defend what they had won on the most dramatic closing day in Premier League history.
"When I won the league for the first time in 1993, I didn't want my team to slacken off. The thought appalled me. I was so determined to keep advancing, to strengthen our hold on power."
Ferguson claims he has "no animosity" towards Roberto Mancini, despite feeling that he "let himself down" by letting Carlos Tevez back after the infamous Bayern Munich incident. Mancini is praised as the man who brought the best wine with him to matches at Old Trafford.
Liverpool's handling of Suarez's racist comments - "The most ridiculous thing for a club of Liverpool's stature"

"I think Kenny [Dalglish] was falling back on the old chip on the shoulder... The young directors there idolised Kenny and there was no one to say 'Hey, behave yourself, this is out of order. This is Liverpool Football Club.'

"Liverpool wore those T-shirts supporting Suarez, which I thought was the most ridiculous thing for a club of Liverpool's stature. David Gill would not have allowed any manager to handle it that way. Nor would Bobby Charlton. They are experienced people who know about life. There seemed to be nobody at Liverpool willing to pull Kenny's horns in."
Rafa Benitez - "He wanted to defend and destroy a game, not win it"
"He displayed no interest in forming friendships with other managers: a danger policy, because there would have been plenty from lesser clubs who would have loved to share a drink and learn from him. Benitez had more regard for defending and destroying a game than winning it. You can't be totally successful these days with that approach.
"I found Liverpool hard to watch when he was manager there. I found them dull. It was a surprise to me that Chelsea called him."
The Glazers - "They let me get on with the job"

"The Glazers were supportive from day one. They let me get on with the job.... at no stage did [the club's huge interest payments] translate into pressure to sell a player or excessive caution on the purchasing front."

Managing England - "It wasn't a bed of nails I had any desire to lie on"
Ferguson claims he was offered the England job twice: once in 1999, and again two years later, just before Sven Goran Eriksson got the job.
"There was no way I could contemplate taking the England job. Can you imagine me doing that? A Scotsman? I always joked that I would take the position and relegate them: make them the 150th-rated country in the world, with Scotland 149. No, it wasn't a bed of nails I was ever tempted to lie on."
Nemanja Vidic - "He wanted to go to Kosovo... he had the eyes for it."
"Vidic was a dour, uncompromising sod. He was a proud Serb. In 2009, he came to see me to say he might be getting called up... What do you mean, called up?' I said, alarmed. 'Kosovo. I am going,' he said. 'It's my duty.' He had the eyes for it."
Frank Lampard and Steven Gerrard - Good but not great
Ferguson praised both in extravagant terms earlier this year, but is far harsher in his autobiography. Lampard is dismissed as "a marvellous servant for Chelsea, but I didn't think of him as an elite international footballer," while Gerrard (who he called "the most influential player in England, bar none") is described as very ordinary: "I am one of the few who felt Gerrard was not a top, top player. When Scholes and Keane were in our team, Gerrard seldom had a kick against us."
ON CRISTIANO RONALDO...
Ferguson described Cristiano Ronaldo as the finest player he ever worked with and credited Wayne Rooney with convincing him to stay at United after the controversy of England's World Cup quarter-final against Portugal.
Ronaldo became public enemy No 1 in England when he winked at the Portugal bench after Rooney's dismissal for stamping on Ricardo Carvalho and was among the first to complain to the referee about his club-mate's challenge.

Faced with losing his best player to the fallout, Ferguson writes that Rooney himself played an instrumental role in convincing the Portuguese to stay.

Rooney telephoned Ronaldo personally and repeatedly to reassure him that he did not blame him for his dismissal and even suggested to Ferguson that he could give a joint interview to show to display their unity.
ON RIO FERDINAND...
Ferguson blames the drug testers for allowing Rio Ferdinand to leave Manchester United's training ground and miss the test that led to the 'brutal punishment' of an eight-month ban in 2003.
Ferguson did order the defender to curtail his off-field interests, losing his cool when Ferdinand arranged to interview rap star P Diddy in America.
'Give me a break Rio, is he going to make you a better centre half?' said Ferguson.
But Ferguson comes across as a huge admirer of Ferdinand, but he did take issue with the player's wide-ranging off-the-field interests.
'His life expanded in more directions than we were happy with' he writes before revealing that he warned Ferdinand that he would 'not be with us much longer' if he didn't change.
ON OWEN HARGREAVES...
Ferguson has identified former England midfielder Owen Hargreaves as one of his worst signings.
Hargreaves joined United in 2007 from Bayern Munich but only started 27 Barclays Premier League games in four seasons.
Ferguson has accused Hargreaves, who later joined Manchester City, of not having 'nearly enough determination' and claimed he opted 'for the easy choice' in training.
'When I signed him there was something about him I didn't like,' added Ferguson.
ON MARK BOSNICH...
Ferguson labelled Mark Bosnich a 'terrible professional', admitting the former United goalkeeper's eating habits - including a penchant for Chinese takeaways - made him a nightmare to deal with.
Few in Ferguson's sensational new book get as damning an assessment as the Australian.
'Mark Bosnich was a terrible professional,' the book reads.
'We played down at Wimbledon and Bosnich was tucking into everything: sandwiches, soups, steaks. He was going through the menu.'
'I told him, "For Christ's sake, Mark, we've got the weight off you, why are you tucking into all that stuff?"