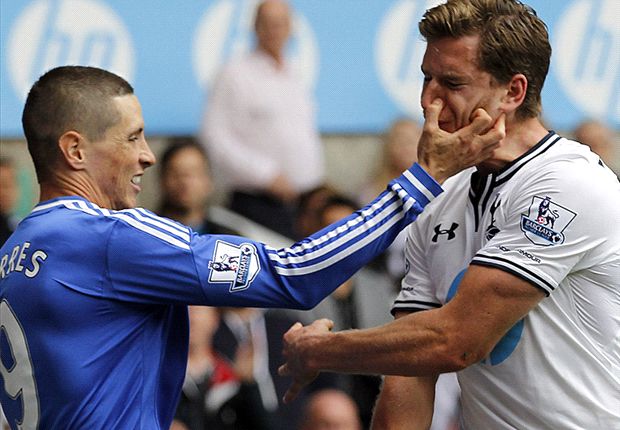 Fernando Torres will face no disciplinary action following his clash with Tottenham's jan Vertonghen, the FA have announced.
The Chelsea striker will only face a one-match ban after seeing two yellow cards during the Blues' match with London rivals Tottenham at the weekend but the Spaniard has escaped further punishment for his altercation with Vertonghen.
A statement on the FA website read: "The FA will take no action against Chelsea's Fernando Torres in relation to an incident involving Tottenham Hotspur's Jan Vertonghen which occurred in the 50th minute of their match on Saturday 28 September 2013.
"One of the match officials saw the coming together of the two players, albeit not in its entirety. In these particular circumstances, in line with The FA's policy on when retrospective action may be taken, reviewed this summer by the game's stakeholders, no action may be taken."
The FA changed the laws on the Retrospective Action ruling for the start of the 2013/14 season. The ruling now states that, if the referee, the assistant referees and/or the fourth official are in no position to see the incident then retrospective action can be taken.
However, in Torres' case, because "one of the match officials saw the coming together" no retrospective action can be taken.
Torres would have missed a number of key Chelsea fixtures but will now be legible to feature against Norwich, Cardiff and Manchester City as well as the League Cup fixture against Arsenal.