You know that sinking feeling you get when you are about to attend a 2 hour lecture you really cant stand? Well no one is more depressed than i am as the disruptive international break comes along to guarantee two weeks of pure torture. Well, the good thing is the weekend brought a lot of interesting fixtures that will keep me engaged for at least a week before i run out of football to watch. If you are an avid movie or series watcher, now is the time to load up your computer. Anyway here is my weekly roundup on Europe's top leagues.
In ENGLAND
, Chelsea practically toiled for a hard fought if undeserved point at Stamford Bridge. The Blues looked really poor against Steve Clarke's West Brom and only took the lead through a rather stupid mistake from Boaz Myhill which Samuel Eto'o duly punished. Shane Long put West Brom on level terms before Stephan Sessegnon scored to silence the Bridge. Then the controversial moment of the weekend was when Ramires went down rather too easily in the box to con the referee into awarding a penalty. A rather soft decision but Chelsea cared less as Eden Hazard scored with a crisp finish. I must say if Mou thought the Premiership was the way he left it, he was delusional. His side really struggled and his insistence on using Frank Lampard begs for answers. I could also notice he had a satisfied smirk on his face as his 66 unbeaten run at Stamford Bridge continued. Selfish old Mou. Liverpool reestablished their S connection with Luis Suarez bagging a brace and Martin Skrtel scoring against a terrible Fulham who also registered an own goal. Suarez's days at Liverpool are numbered with these kind of displays. Southampton continued their fine form with a 4-1 win over Hull. Well done Pochettino. A disappointing Spurs fell at home to a dogged Newcastle courtesy of a Loic Remy strike. Spurs are really struggling to get goals and looked really flat on Sunday. They have managed to score only 9 goals in 11 games, a poor return for any side. Things must improve for AVB's team and quickly too.
The match of the weekend saw an in form Arsenal travel to Old Trafford to face a rejuvenated Manchester United. In a rather boring match in my opinion, Robin Van Persie's strike handed the Red Devils all three points to bring life to a tepid affair. Arsenal were too cautious and even though they improved in the second half, they never looked like they could get a point against a well oiled United backline. Ozil once again proved he is a big match flop as he was a peripheral figure throuhgout and his legendary passes were shocking to say the least. I did analyse who Arsenal purchased!!! The Arsenal bench was paper thin and this indicates they don't have what it takes to go all the way. Wenger must now think of how he can solidify his lead at the top while David Moyes will see the victory as a booster to kick start their season.
In
GERMANY
, Bayern Munich continued their impressive start to the season in robotic fashion. They dispatched Augsburg 3-0 with relative ease and set a new Bundesliga record of 37 games unbeaten. What a record and if there is any team capable of beating this Bayern side right now, maybe they ply their football in Pluto. Pep for me should take a chill pill because he always looks apprehensive which is funny, cause his side always win. He also had the irritating trait at Barce even when they were leading teams 5-0. Borussia Dortmund completed a miserable week with a 2-1 loss at Werder Bremen. Reus gave them the lead before Ricardo Rodriguez and Ivica Olic struck to hand the Wolves all three points. To make matters worse, Neven Subotic has been ruled out for 6 months. A big big blow especially when the likes of Ilkay Gundogan are still out, who they obviously miss. His influence in the middle is badly needed but if there is any team that can pull through, its Borussia. Klopp will engineer a way to keep them up and running, he's a tactical genius. Bayer Leverkusen recorded a 5-3 win over Hamburg to keep pressure on the top two while Schalke and Borussia Moenchengladbach also recorded victories.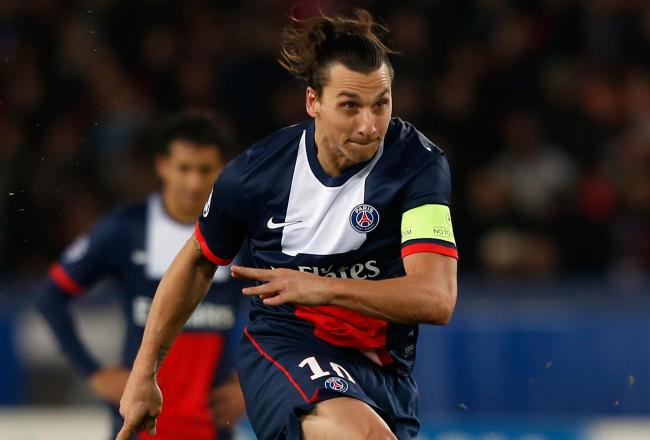 In
FRANCE
, Zlatan Ibrahimovic showed he has a rightful claim to the Ballon D'Or with a man of the match performance against Nice. The big Swede scored all three goals for PSG in a match that was relatively routine and continued his impressive goal run this season, 16 so far.Nice did pull one back. Monaco fell to a shock 1-1 draw at home to Evian TG. Radamel Wass gave Evian a shock lead before Radamel Falcao levelled matters. A terrible result which i'm sure resulted to a lot of torn papers around Naija. You know what i mean peeps. Olympique Marseille gave life to their dismal season with a much needed win against Sochaux while Lille played out a drab draw at Guingamp. A terrible Bordeaux was thrashed soundly by an impressive Nantes.
In
SPAIN
, an impressive Real Madrid and Cristaino Ronaldo saw off a lethargic Real Sociedad 5-1. Ronaldo scored his 21st hat trick of his Madrid career and his 24th goal of the current campaign. The guy is smoking but unfortunately the World player of the year seems destined for someone else after our dear FIFA president openly declared his affection for Leo Messi. The Argentine's four year winning streak suddenly isn't puzzling anymore. Ronaldo should just play for fun and he himself has declared the award means nothing to him anymore, that's the spirit bruv. Atletico suffered a setback in their quest for La Liga as they were held by Villarreal at the El Madrigal. Both goals scored were own goals to give some sort of poetic justice to proceedings .Espanyol were beaten 3-1 at home to Sevilla while Valencia and Valladollid played out a 2-2 draw. Barcelona recorded a disgustingly easy 4-1 win at Real Betis. Cesc Fabregasa scored a double as Neymar and Pedro also got on the scoresheet for the Blaugrana. Jorge Molina scored a consolatory goal for Betis. The results means Barce are now three points clear of Atleti and 6 of Madrid. Here we go again!!! Leo Messi's injury woes continued as he was subbed midway through the first half with a strange injury. It means his goal scoring drought in La Liga has stretched to five matches. Surprising really!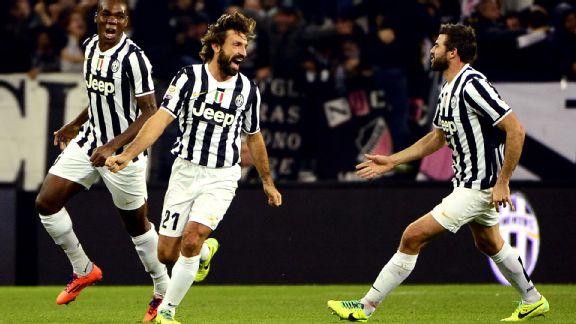 In
ITALY
, Roma dropped another two points in as many games to give doubters something to write about. In a match that was boring to say the least, Roma took the lead against Sassuolo through an Alessandro Longhi own goal. They withstood the continued pressure from Roma until the 90th minute when they pulled a shocking equaliser on 90 mins to silence the Olimpico. Roma still lead Serie A proccedings with a point. Ac Milan's disastrous season continued with a tepid 0-0 draw at Chievo Verona. Milan are languishing in 10th place and are in real danger of not making the Champions League. I don't see them having the spirit to fight like they did in previous seasons, they are way too average and spearheaded by Balotelli, who is way too unpredictable and over-hyped. I wish them luck.Inter did well to secure a 2-0 agaisnt Livorno to keep them in 4th place while Fiorentina secured a 2-1 win over Sampdoria.
The match of the weekend took place at the Juventus stadium as the Old lady hosted Rafeal Benitez's Napoli. Juve took the lead through Fernando Llorente on 2 mins. Andrea Pirlo doubled the lead on 74 mins before the impressive Paul Pogba scored a third to complete the humiliation and show who is boss in Italy. Angelo Ogbonna got sent off for Juve but that didnt affect what was a professinal victory.The results pulls Juve one point closer to Roma while Napoli remain third, 4 points adrift the top.
That's it folks. See you in two weeks time as we endure the two week international break/torture. Till then, Ciao.
Follow @ Sportues90
Like us on Facebook/Sportunes