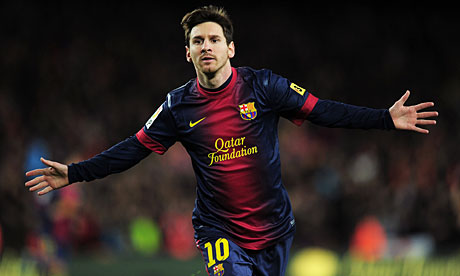 Lionel Messi as we know him is that kind of footballer that doesn't give a hoot about what goes on off the pitch, the world footballer of the year just lets his football do the talking when he's with the round leather ball.
Last week, Barcelona Vice-president Javier Faus drew attention to the Argentine forward, stating in a radio interview that "there is no reason" to hand the player a new contract, in response to continued reports since the summer that provisional talks on a renewal were on track.
However, Messi will not let this slide as he gentlemanly blasted the Catalan director: "Mr Faus is a person who knows nothing about football and wants to run Barcelona as a business, which it is not," Messi responded, talking to Rac1 from Argentina, where he is currently recovering from injury.
"Barcelona is the best club in the world and should be led by the best directors in the world. Neither I nor anyone around me has asked for an improved contract."
The 26-year-old has also seen reports this week point fingers at his father Jorge in allegations of using such events as the Messi and Friends summer friendlies to launder money.
"The truth is that I am focused on my recovery and I am not thinking about anything else. I am trying to reach the maximum physical level possible and to not read anything directly.
"My family has told me something. I deeply regret what is being said about my father and my friends because what we do in these games is one hundred per cent to charity.
"Have I sacrificed my father as a scapegoat? That is funny because I am deeply attached to my father personally and professionally. He also wants to be president of my company and the foundation.
"He takes care of the off-the-field aspects and I play football, and he wants to take care of everything."