Playing against Celta Vigo yesterday, Victor Valdes suffered a serious knee injury which is expected to rule him out for up to six months. Hence, He wont be participating in the worldcup and all things being equal, he's never going to play for Barcelona again.
The Spaniard is highly regarded as the best goalkeeper in Barcelona's history having won a total of 19 trophies including five La Liga titles, three Champions League titles and two Copa del Rey titles. He has also won the Zamora Trophy a record five times. He currently holds the club records as goalkeeper with most appearances in the league and in official competition. But the 32 year old has chosen not to renew his contract with Barca which expires this summer, Hence bringing an inglorious end to his 20 year relationship with the club.
Messages of Support have been rolling in for Victor, Barcelona team-mate Javier Mascherano expressed his sorrow on Twitter, saying: 'Nothing to celebrate. Get well soon Victor Valdes.'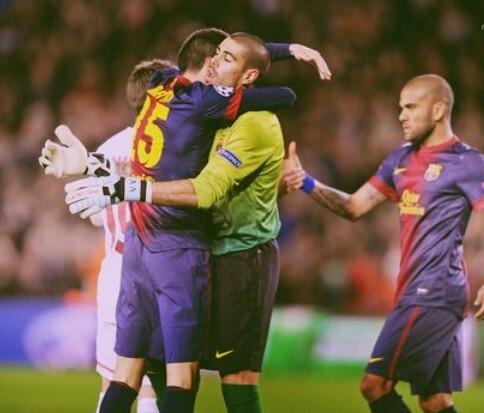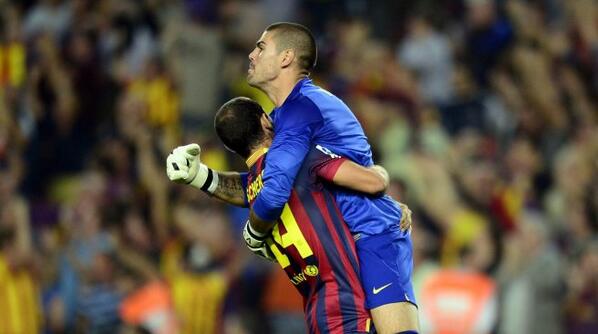 Andres Iniesta, a good friend of Valdes added: 'It is a horrible piece of news. The game changed with Victor's injury. It's always hard to take when something like this happens, but we will keep going with the same spirit.'
Francest Fabregas also paid tribute to his friend on the microblog.
Barcelona's El Capitano - Carles Puyol also took to instagram to show support for the injured soldier.
Barcelona president Bartomeu insisted they would assist him throughout his recovery, despite his contract expiring at the end of the season.
"I wish a speedy recovery for Victor. He has all the support and encouragement of the club. We have to keep fighting."
Barcelona sporting director, Andoni Zubizarreta: 'I haven't seen much of anything since Valdes got injured. I wasn't able to watch the football, let along five an analyst. It's been an emotional day and I've got a bad feeling in my stomach."
Manchester United goalkeeeper David de Gea, who is hoping to take Valdes's place at the worldcup: 'I want to give all my support and strength to a goalkeeper that I admire and respect. Victor Valdes, wish you get well and see you soon in the pitch.'