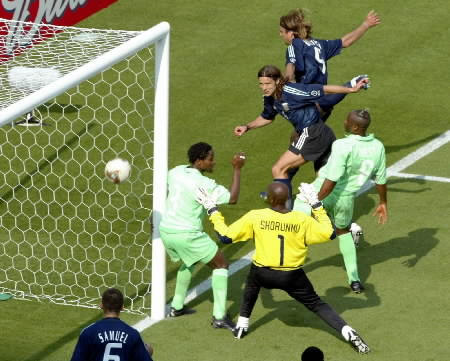 Gabriel Batistuta!! Remember him? The man that scored that spectacular header against Nigeria in the 2002 world cup. The Argentine legend made defenders shiver during his playing days and never stopped making headlines for his audacious strikes.
Well, The 45 year old who is popularly known as Batigoal is back in the news after revealing some heartbreaking details of the early part of his post retirement career. In an interview with TyC Sports, He said;
"I left football and overnight I couldn't walk, I wet the bed even though the bathroom was only three meters away. It was 4am and I knew if I stood my ankle would kill me.
"I went to see Doctor Avanzi (a specialist in Orthopaedics and trauma) and told him to cut off my legs. He looked at me and told me I was crazy.
"I couldn't bare it any longer. I can't put in to words just how bad the pain was."
"I chose the right leg, the doctor couldn't do both.
"I didn't care. My problem is that I have no cartilage or tendons. My 86 kilos are supported by bones alone. That's what generated the pain.
"Since I've had the screws put in, I'm much better now than I was three years ago."