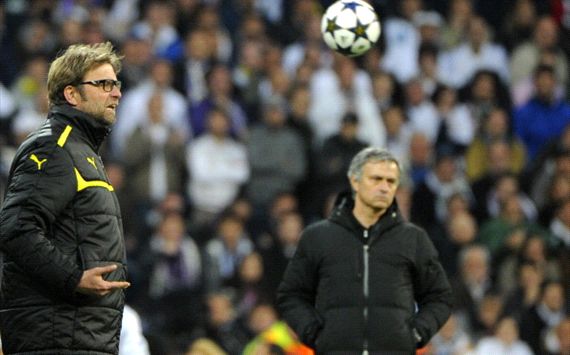 Unfancied by some, Dortmund's triumph against Jose Mourinho's s Real came in two forms: devastating attack at home, measured, concentrated defence away - at least until those last few scrambled minutes. If they are the coming team, Real and Mourinho are going — their separate ways probably. This was a second consecutive semi-final failure at home. It was Bayern last year.
Remontada historicas — historic comebacks — was the theme Real have pushed since last Wednesday. Madrid have come back from some serious deficits in the past, including being 4-1 down against Derby County in 1976 and winning 5-1 in extra-time at home.
Rather more relevant was last year's semi-final second leg here when Real had to overcome a 2-1 first leg defeat at Bayern Munich. Ronaldo scored two early goals that night but Munich hit back and ended up winning on penalties after extra-time.
Real produced a blistering start, the difference being this time they failed to take one of three great openings they carved out in the first 15 minutes.
The cacophony at kick-off was astonishing, a sonic assault that must surely have affected even Dortmund players used to 85,000 crowds. It certainly stirred Mourinho's men. The first corner came on 55 seconds, there were four in the first eight minutes; the first chance came in the fourth minute but Gonzalo Higuain hit Roman Weidenfeller with his too-slow shot.
Ten more minutes of high intensity pressing brought a volley from Ronaldo. Again it hit Weidenfeller, who stood tall. Less than 60 seconds on and Mesut Ozil was clean through but to huge groans, dragged his effort wide.
The half-hour came and went with the Germans still 4-1 ahead on aggregate. They had lost Mario Gotze to injury, but were coping. The initial home storm had been ridden out and the din inside the Bernabeu began to reflect small disappointments such as poor passes rather than squandered opportunity. Offside decisions were being treated as miscarriages of justice.
Higuain, as well as the English officials was the focus of much this gathering annoyance. It was not all his fault, for a team including Ronaldo and Angel Di Maria, a lot of Madrid's attacking was narrow. It needed inch-perfect passing and movement and they were too frantic for that.
This enabled Mats Hummels to grow into the game and Borussia started to have passages of their own passing. Lewandowski had one opening, saved by Diego Lopez.
But the goalless first half meant that Jurgen Klopp could emphasise 45 minutes of coolness to his players. He would also have said surely that Real would tire, space would come.
And it did, sooner than expected. In the 49th minute Lewandowski was found running into the Madrid area by Gotze's replacement Kevin Grosskreutz. Lewandowski had time but ballooned his shot over.
It was an untypical finish from the Pole. One minute later he provided something more familiar when, released by a lovely combination between Jakub Blaszczykowski and Marco Reus, Lewandowski strode forward and smashed a shot with fierce certainty only to see it ricochet off the bar.
In with a shout: Benzema gets Madrid's first
On came Kaka and Karim Benzema but the next big moment involved Diego Lopez, Real's interim keeper, flying across goal to somehow thwart Ilkay Gundogan.
Madrid eventually punished their visitors' profligacy on 83 minutes, when Ozil supplied a pinpoint low ball from the right side of the box and Benzema - on for the wasteful Higuain - made no mistake.
Smashing it home: Ramos sets up a grand stand finish with a late strike
Real poured forward as Dortmund manned the barricades, and five minutes later Ramos smashed the ball into the roof of the net after Benzema teed him up in a crowded penalty box.
Down and out: Ronaldo gestures after being knocked to the floor
No way Jose: Mourinho shows his frustration on the sidelines
End of the road: Ronaldo walks off the pitch looking dejected
Dortmund's insistence on trying to score rather than heading to the corner flag to run the clock down created some unnecessary alarms, but referee Webb signalled the end of their torture after waving away Ronaldo's penalty claims following a Felipe Santana challenge.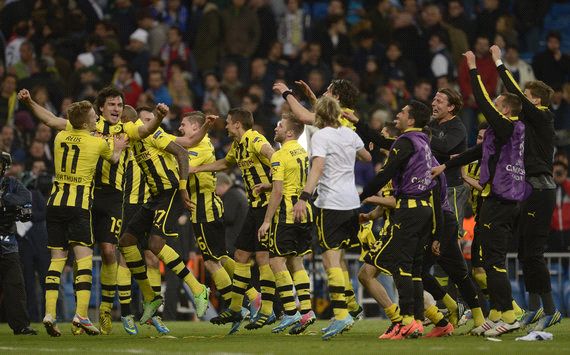 They are on their way to Hstory
I dont think any bottom seeded team in the group stage has ever won the Champions League. I STAND TO BE CORRECTED