Over the years, we've seen plenty of athletes who have taken their skills from the playing field straight onto the screen. There are always athletes that have that "It" factor in their sports, but with sports and entertainment crossing-over so much these days, the ones who have "It" away from the game are the ones who become most popular.
That's why we're taking a crack at the athletes who, thanks to their game, personality and coolness, could get a role in Hollywood.
Gabby Douglas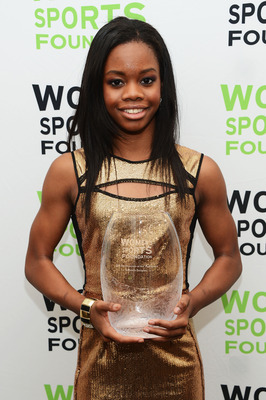 The gold-medal winning gymnast may only be 17-years-old, but don't mistake her for someone who can't hold her own. After seeing instant success during her Olympic run last year, Gabby became an absolute star, causing Americans to adore her and getting kudos from some major players in the music world and beyond. Kelly Rowland spoke to MTV News last year and she showed love to the olympic gold medalist, proudly exclaiming, "Gymnastics! Gabby Douglas! She's awesome!"
But Kelly's not the only member of Destiny's Child enamored with the headline-making teen. Beyonce blogged about Douglas' win, sharing that she feels inspired by the teen's impressive Olympics run. "A huge congratulations to 16 year old Olympic Gold Medalist Gabby Douglas - WOW - what a thrill to watch you take this Gold! - enjoy this moment, its yours. Thank you for inspiring all of us! Love, B."
They're hardly the only A-listers that showed the 'little squirrel'adoration. Lil Wayne
tweeted
, "Glad i lived to see what Gabby Douglas did in the Olympics. Icon." His Young Money pal Nicki Minaj also sent her some viral love. "Kisses to Gabby what an amazing little firecracker. #USA #Olympics," she wrote.
In fact, after Gabby responded to Weezy's tweet with "WOW!!!! Im speechless Thank you SOO MUCH!!," Minaj teased back, "Oh wow, I tweeted about #Gabby earlier but she responds to@LilTunechi and not me? U know what? Ima fight u. I've had it!!!"
Other Twitter love came from a myriad of entertainers, including Oprah Winfrey, Estelle, Ian Somerhalder, Ciara, Gabrielle Union, Timbaland, Elizabeth Banks and athletes like fellow gold-medal winner Michael Phelps and Kristi Yamaguchi.
Shortly after the historic victory, it was announced that she would appear on the front of the Kellogg's Corn Flakes box; a mock-up was released in the wake of the win.
"People have asked if I felt like I was on fire here in London, but I just feel normal, the same as I do every day in practice. The difference has been that I was ready to seize the moment, to focus and to trust in what I can do," Douglas wrote on her ESPN blog about her landmark victory.
"You say you want to do it and you dream about it every day, but then when it happens, it's hard to believe it really has. Tonight, when the U.S. flag was raised and the national anthem played, there were so many camera flashes going off I felt like I was at a concert. And the crazy thing was, they were all taking pictures of me."
With three more years left until the next Summer Games, she has plenty of time to grab a script or two.