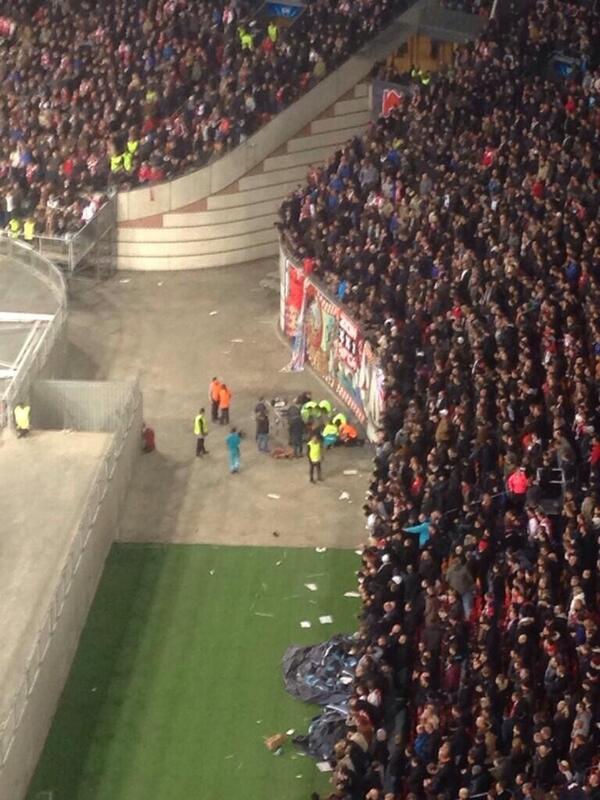 Okay its officially official, Football fans are the most passionate set of people in the world, they will go to any extent for the club which they support, even if it is to die there
Recently, we told you about the Arsenal fan that lost his house after losing a crazy bet to a Man U fan
(HERE
), As if that wasn't enough, just two days ago a CSKA fan started a hunger strike because he didnt like a referee
(HERE
).... To crap it all up, last night, the beautiful game witnessed one of the ugliest incidents ever to have happened to a football fan.
In last night's Uefa Champions League game between Ajax and Barcelona at Amsterdam arena, an Ajax fan suffered serious head injuries after falling from the stands whilst celebrating a goal. The Ajax fan was in the fanatical F-Side of the Amsterdam Arena and fell around 16 ft (according to BBC) celebrating when the Dutch side went 2-0 up. Goal.com confirms he was sat in Row 1 of Block 126, which means the incident took place in the south side of the stadium.
The incident threatens to provide a desperately sad end to a memorable night for Frank de Boer's team, who kept their qualification hopes on track with a spirited performance against Gerardo Martino's Barcelona side. Our thoughts are now with this unnamed fan as he fights the greatest battle he will ever face.
Social media was rife with suggestion that the fan had died but this has been denied by Amsterdam police.
An announcement from Ajax is expected later Today.