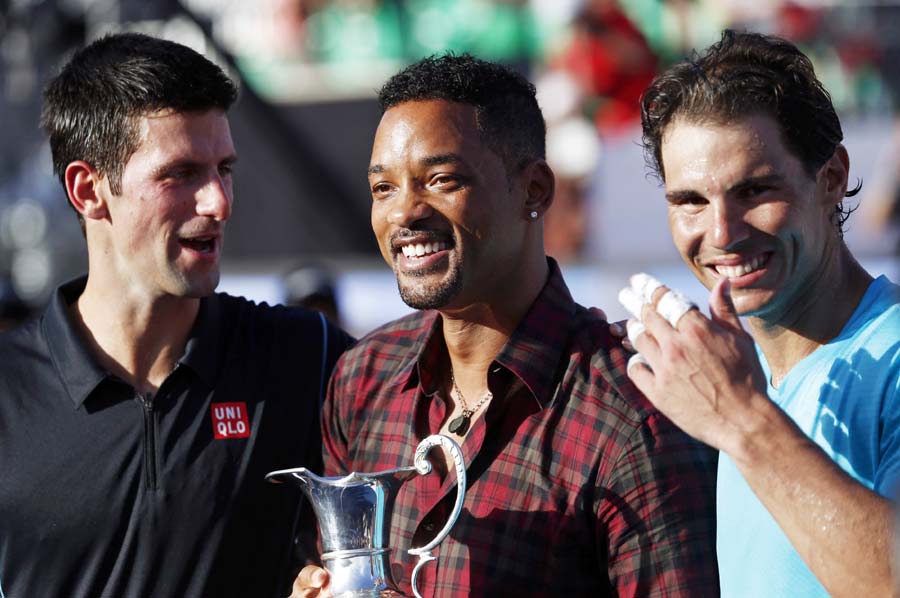 Rafael Nadal and Novak Djokovic are in the midst of a South American exhibition tour. The world number one and two are currently in Argentina to honour David Nalbandian who recently put a full stop to his tennis career. Guess who crashed the party? Will Smith met with the two tennis legends after their exhibition match in Buenos Aires.
Djokovic posted a picture on his instagram page where he was seen posing with the Hancock himself and world number 1 Rafa.
Djokovic who loves to mimic when it comes to copying other tennis players' styles, tried to mimic Will Smith's dance steps when the hit Men in Black was played at the exhibition match.
The world No2 started to jig in his seat, and as the music increased in volume he rised to his feet, pointed to Smith in the audience and then copied his style from the film.
Smith initially nodded along in appreciation, but then stood up and shook his finger indicating that Djokovic had his moves wrong. The actor then showed how it should be done to the delight of the cheering crowd.