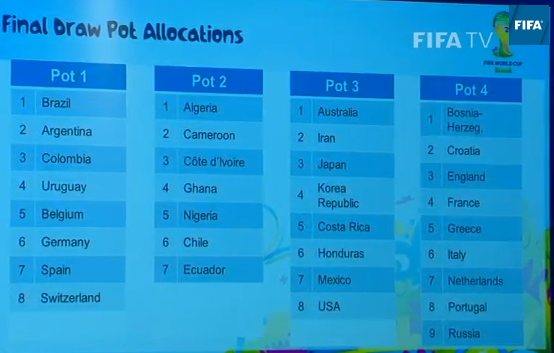 A press conference was held in Brazil today, in which the Creme d'la Creme of world football had a round table meeting, to allocate pots for the FIFA World Cup Brazil 2014 Final Draw which will be held on friday.
The draw will be organised so that there will be no more than two European teams in any group of four countries, and all the African teams will be kept apart. One country in the all European pot 4 still have to join Nigeria in Pot 2, hence we are now in danger of facing a potential group of death as there is a possibility of having defending world champions Spain, Asian champions Japan and CRISTIANO RONALDO's Portugal in the same group with us.. There's also another possibility of being grouped with FIVE time champions and hosts Brazil, CONCACAF champions USA and Robin Van Persie's Netherlands...
Stop sweating guys, those are just the worst possible scenarios as a whole lot of weaker permutations can work in our favour.. For example, we can have Switzerland, Honduras and first timers Bosnia & Herzegovina.. Moreover, we are African Champions and we shouldn't be intimidated.