Happy Birthday To Thierry Henry! The History of football will be incomplete without you and its only proper Sportunes pays respect to one of the finest strikers of his generation.
Thierry Henry Facts
Thierry is the only three-time winner of the Football Writers Association Footballer of the Year three times.
Thierry is the first player to be named England's Footballer of the Year three times.
Thierry Henry has won the most Golden boots in the history of the Barclays Premier League.
In 2006, he became the first player to score more than 20 goals in the league for five consecutive seasons (2002 to 2006)
Thierry was runner-up for the 2003 and 2004 FIFA World Player of the Year award.
In November 2007, he was ranked 33rd on the Association of Football Statisticians' compendium for "Greatest Ever Footballers".
In 2009, Henry was voted the best Premier League player of the 2000s.
On 10 December 2011, Arsenal unveiled a bronze statue of Henry at the Emirates Stadium as part of its 125th anniversary celebrations.
Thierry shared the ESM Golden Boot Award with Diego Forlan in 2005. He became the first player to win it twice in a row.
In 2006, Arsenal turned down offers that would have smashed the 47-million pound transfer fee paid for Zinedine Zidane.
In July of 2008, Arsenal fans voted Thierry as the team's greatest player ever in a Gunners' Greatest 50 Players poll. Dennis Bergkamp came in second.
Henry is the highest goal scorer in Arsenal's History.
Henry is France's all time top scorer, and second most capped player after Lilian Thuram.
Thierry likes to listen to rap before he plays a match. Some of his favorite artists are Dr. Dre, Snoop Dog, Xzibit and the Wu-Tang Klan.
The word "va-va-voom" was officially added to the Oxford Concise English Dictionary as a result of the Renault commercials starring Thierry. The phrase has become Thierry's trademark quote during the spots.
Thierry Henry and William Gallas share the same birthday date.
Thierry Henry's Famous Quotes.
"When I was younger I was trying to do what I wanted to do, not what the game wanted me to do."
"I take the ball, I go wide, I cross, I shoot, but when the moment beckons, I am ready to make the difference."
"I eat football, I sleep football, I breathe football. I'm not mad, I'm just passionate."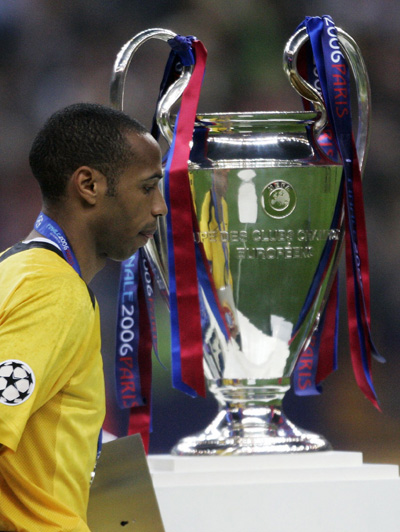 "There's nothing I'm scared of in football."
"You can never have enough trophies. If there were ten to be won a year I'd want to win them all! That's not being greedy, it's just a natural thing."
"It's not about me, it's about what I can help the team achieve. And I do that through scoring goals."
"Being seen as the best striker in Europe doesn't spur me on—it's helping my team to success. That's my only aim."
"And I don't really like golf. I know a lot of English footballers play, but I know that if I go with the club to play, sooner or later I will end up trying to smash the ball with my foot.
"
"I'm still young and everyday I want to learn more. I feel I am beginning to find myself."
"And I don't really like golf. I know a lot of English footballers play, but I know that if I go with the club to play, sooner or later I will end up trying to smash the ball with my foot.
"
"It's difficult to talk about Pele because I didn't see him."
"In football you always get judged on your last game. Whoever you are, or how amazing you are, it's the last game that everyone has seen."
"In New York it seems like there's no Monday or Saturday or Sunday. The town is always moving. The vibe is great."
"Baseball and American football and hockey are all ahead because they have a history. The MLS is kind of new. So hopefully, in time, and with players coming and trying to develop the game, and the U.S. team also doing well - at the last World Cup, they finished above England and created some buzz."
"So many people say that obviously my game has changed since I arrived here and I say that it's good that it changed, otherwise it would show a lack of intelligence."
What others say
"If you look at the whole package, with everything Henry has, I don't think you can find that anywhere else. You give him the ball in the right place and his acceleration will take him past any defender in the world."
Former teammate Dennis Bergkamp
"He's a wizard with his feet and is blessed with a gift for scoring goals. His best quality is his speed while the ball is at his feet. He may be the fastest man ever to lace up a football boot. No defender in the world can keep up with him."
French defender Lilian Thuram
"When he's on fire, he is impossible to stop. He dribbles like a winger, but is still able to score 20 goals a year in the Premiership."
Coach Fabio Capello "What makes him special? He has a mixture of physical talent and technical ability, as well as remarkable intelligence and above all a great passion for the game."
Arsenal manager Arsene Wenger
"People say he doesn't score a lot of goals with his head, but does he really have to with the ability he has in his feet? He makes spectacular goals look easy. His technique is fantastic."
Former English captain Alan Shearer
"Thierry is the best striker in the world. By far he's the best in the world. Thierry doesn't just score goals. Even when he's not having a good day he can make an important pass. He is a strong character. If things go wrong, he bounces straight back. His effect on the club is very big."
Former teammate Patrick Vieira
"There is only one word to describe Henry—a nightmare. He is one of the best strikers in the world and a kind of player a goalkeeper doesn't want to face."
Former Chelsea goalkeeper Carlo Cudicini
"He can do things Ronaldo can't. When he's in the mood there's no stopping him. He is like no other striker."
Former Arsenal striker Alan Smith
"I tell my kids in the Academy at Newcastle to watch Henry. He plays with such a swagger, not an arrogance, and that is a great quality. He always looks so comfortable. You talk about cars going from 0 to 60 in a matter of seconds, and he is like that. He just explodes. I could sit there for hours and watch him."
Former Liverpool striker Peter Beardsley
"My phone rang.
''Allo, it's Thierry.'
"Very few things over-excite me in life, but the dulcet French tones of Arsenal legend Thierry Henry always get my torso tingling almost as fervently as his goals once did."
"I was the second human being Thierry 'followed' on Twitter, after another former Arsenal great, Cesc Fabregas."
"He even followed me before he followed the official Arsenal account. It was possibly the greatest moment of my life. "
Piers Morgan CNN
"You cant catch him, you cant catch him, when he's gone, he's gone"
William Gallas Former Arsenal Teammate.
"I've always dreamed of playing for Arsenal since I was a young kid watching Thierry Henry"
Joel Campbell Current Arsenal player
Thierry Henry's Individual Records
UNFP Ligue 1 Young Player of the Year (1): 1996–97
PFA Players' Player of the Year (2): 2002–03, 2003–04
PFA Team of the Year (6): 2000–01, 2001–02, 2002–03, 2003–04, 2004–05, 2005–06
FWA Footballer of the Year (3): 2002–03, 2003–04, 2005–06
Premier League Golden Boot (4): 2001–02, 2003–04, 2004–05, 2005–06.
Golden Boot Landmark Award 10 (1): 2004–05
Golden Boot Landmark Award 20 (1): 2004–05
Premier League Player of the Month (4): April 2000, September 2002, January 2004, April 2004
Goal of the Season (1): 2002–03
UEFA Team of the Year (5): 2001, 2002, 2003, 2004, 2006
MLS Best XI (2): 2011, 2012
MLS Player of the Month (1): March 2012
Best MLS Player ESPY Award (1): 2013
MLS All-Star (4): 2011, 2012, 2013, 2014
Onze d'Or (2): 2003, 2006
European Golden Boot (2): 2003–04, 2004–05
French Player of the Year (5): 2000, 2003, 2004, 2005, 2006
IFFHS World's Top Goal Scorer of the Year (1): 2003
FIFA FIFPro World XI (1): 2006
FIFA World Cup All-Star Team (1): Germany 2006
FIFA Confederations Cup Golden Ball (1): France 2003
FIFA Confederations Cup Golden Shoe (1): France 2003
UEFA European Football Championship Team of the Tournament (1): 2000
FIFA 100 : 2004
Time 100 Heroes & Pioneers no.16 : 2007
English Football Hall of Fame : 2008
Premier League 10 Seasons Awards (1992–93 – 2001–02)
Overseas Team of the Decade
Premier League 20 Seasons Awards
Fantasy Team (Panel choice)
Fantasy Team (Public choice)
Légion d'Honneur : 1998
Club Awards and Honours
Monaco
Ligue 1 (1): 1996–97
Trophée des champions (1): 1997 Arsenal
Arsenal
Premier League (2): 2001–02, 2003–04
FA Cup (3): 2002, 2003, 2005
FA Community Shield (2): 2002, 2004
Barcelona
La Liga (2): 2008–09, 2009–10
Copa del Rey (1): 2008–09
Supercopa de España (1): 2009
UEFA Champions League (1): 2008–09
UEFA Super Cup (1): 2009
FIFA Club World Cup (1): 2009 New York Red Bulls
MLS Eastern Conference (2): 2010, 2013
MLS Supporters' Shield (1): 2013
National France
FIFA World Cup Winner: France 1998 Runners-up: Germany 2006
UEFA European Football Championship Winner: Belgium & Netherlands 2000
FIFA Confederations Cup Winner: France 2003
King Hassan II International Cup Tournament Winner: Morocco 2000