Germany are the U 20 Women Fifa Worldcup champions
After 120minutes of a grueling game of football between the top two scoring sides in Sunday's Fifa U-20 women world cup final in Canada; the final whistle drew curtains close to a tournament which averaged 3.18 goals per game; as Nigeria's super falconets bowed out as runners up to winners Germany in the bi-annual women's mundial, which when compared to the male u-20 world cups; future stars and budding talents would be expected to step to the football world scene making fans get their eyes dazed either from the field of play or via media screens.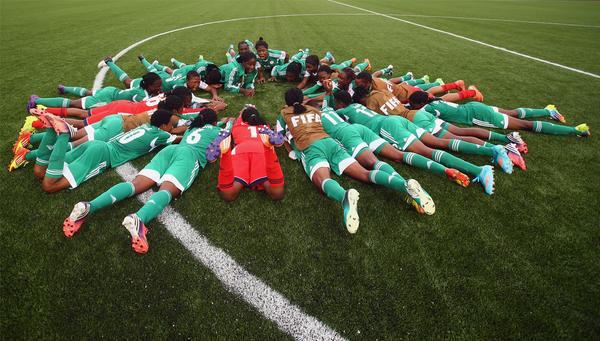 The Falconets must stick together if they want to bring honor to their country
In all, the national teams of these participating countries are all in anticipation of the next sets of generation of soccer players who would lift the nation's national flag high and bring world honor and respect to the county's name.
It's expected at the end of every age grade mundial; a good number of the players who perform well are promoted into the senior national team, but then in the case of their squad team mates; national team call ups don't come knocking till they fully undergo the age grade levels. As the case may be for the stars of these 'Gallant losers' of these years u-20 women world cup edition who made it to the final against all odds due to Nigeria's football federation in house buhaha, a good no of these set of falconets are future stars to make Nigerian female football watching fans remain confident of their darling female national team.
Although some school of thoughts feel the Asisat Oshola, Courtney Dike, Uchechi Sunday, Captain Ebere Okoye and co. team should represent the green and white colors of the national team at the next Olympics to be held in Rio de Janeiro, Brazil in 2016; others feel the time is right for these national heroines to get blooded straight up into the super falcons…
FUTURE STARS ON PARADE
COURTNEY DIKE
Courtney scored the fastest goal ever in the history on the U 20 women's worldcup
American based Courtney who holds the tournament record of scoring the fastest goal in 12seconds, and also shared the same room with Golden ball and boot winner Asisat Oshoala is seen as the next Mercy 'Marvelous' Akide, not just in skill, but also in pace, good final pass delivery as well as an incisive eye for goal.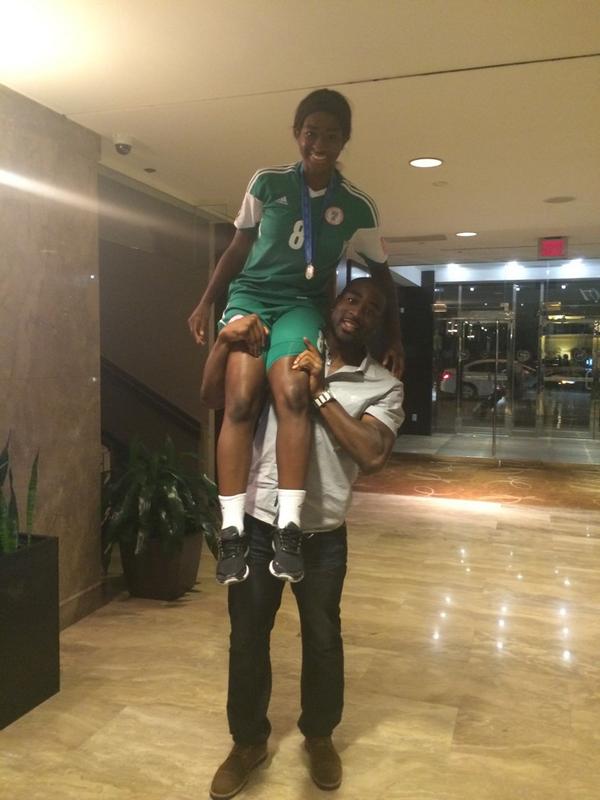 Siblings: Super Eagles striker Bright Dike is proud of his little sister
The younger sibling of Nigeria's Super Eagles forward Bright Dike, She has got heavy boots to fill of the 2001 African female footballer of the year; Courtney can be her heir apparent especially due to her good knowledge of the game thanks to her goal scoring prowess which is due to the good grooming she has got from her Oklahoma State University club; Cowgirls FC.
With similar aspects of playing position; Courtney can step forward and take the challenge to put her name in gold; equaling or surpassing the goal scoring traits of Marvelous Akide-Udoh.
EBERE OKOYE
No Nonsense: Ebere Okoye led by example throughout the mundial
A born leader, midfield lynch pin and a player of a never say die attitude; Ebere Okoye brings back the yesteryears of former super falcons captain Florence Omagbemi. The former pelican stars FC midfielder was known for her tenacious and no giving up nature, which made her stay long as captain for close to two decades of active playing football service to her mother-land.
In Ebere, same budding similarities are seen. With good authoritative instructions dished out from the midfield to her teammates, and rallying calls…Nigeria's Super Falcons team couldn't have a better skipper in years to come than her.
ASISAT OSHOALA
Super Zee Lit the tournament with mesmerizing displays
Tall, slim, skilful feet, jovial, goal-hunter and fan favorite…Super Zee as she's referred to by her teammates clinched gold winning the top scorer and MVP awards in this year's u-20 women's world cup.
Role Model: Asisat must step into Perpetua Nkwocha's shoes
Although quite profligate in front of goal in the finals against the Germans, Nigerians can start feeling confident in having a perfect replacement for four-time African female footballer of the year…Perpertua Nkwocha. The jersey No.4 which has become iconic due to past legends in Kanu Nwankwo (Super Eagles) and Nkwocha (Super Falcons) who have donned it and brought glory to Nigeria; Asisat can well work and walk down such status if fully groomed and allowed to taste senior national team games.
Star Girl: Asisat was the standout player of the tournament
The Rivers Angels FC forward has shown her goal scoring qualities; which no doubt are top class for her age grade, but it should be noted of good caution that world stars take the world stage by the neck when golden opportunities present themselves.
UCHECHI SUNDAY
Uchechi celebrates like Cristiano Ronaldo
Uchechi Sunday is known for her 'Cristiano-Ronaldo' like style of 'Commander Celebration'... She felt hard-done by after missing out on gold medal for a second time against the Germans after tasting defeat in 2010, then as a rookie on the bench, due to the likes of Captain Joy Jegede, Desire Oparanozie, Ebere Orji, Esther Sunday and co.
Four years on, Uchechi a Liverpool supporter due to her admiration for Steven Gerrard and the clubs 'You Never Walk Alone' (YNWA) anthem; has striking similarities with two time African female footballer of the year; Cynthia Uwak and also some resemblance in pace to those of Ex-Falcons Stella Mbachu.
Sunday, a raw-talent should be groomed into the female national team; and not be allowed to join the 'once upon a time' set of ex-falconets who are nowhere to be seen.
THE JOURNEY AHEAD
With the Fifa female Senoir World cup coming up next year 2015 in Canada, the likes of keeper Sandra ChiChi, Ugo Njoku, Sarah Nnodim, Chinwendu Ihezuo, Loveth Ayila and Osarenoma Igbinovia should not be left behind in the breeding process for the next super falcon's team.
Nigeria has never won a medal in female football at the Olympics…the journey for gold in Rio 2016 should start in earnest with our gallant super falconets.