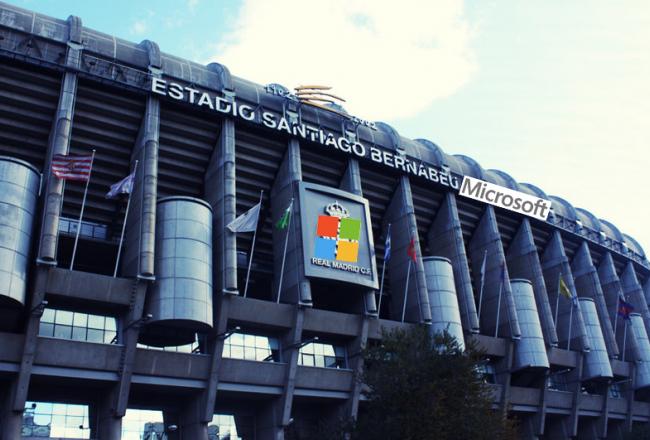 Real Madrid are already the most valuable sports team and team brand in the world. But a a deal with Microsoft could make Spanish soccer team much, much richer if a report in a Spanish newspaper is accurate.
El Confidential is reporting that Microsoft chairman Bill Gates is negotiating to attach the name of the technology company to Santiago Bernabeu, Real Madrid's home pitch. Such a deal could be worth several million dollars a year given recent other sponsorship agreements for soccer teams that like Real Madrid are global brands.
In 2011, Manchester City and Etihad Airways agreed to a $600 million, 10-year stadium naming rights and shirt deal. Then in 2012, Arsenal, another iconic English soccer team, inked a five-year, $240 million shirt and stadium naming rights agreement with Emirates.
What could a stadium naming rights deal pay Real Madrid, which earlier this year signed a $39 million a year shirt deal with Emirates? Although the split in value between stadium naming rights and shirt sponsorship rights has was not broken out for either Manchester City or Arsenal, the $31 million a year shirt deal Liverpool inked with Standard Chartered in 2010 offers some guidance.
The Arsenal deal with Emirates is worth an average of $48 million a year for its dual sponsorships. Subtracting $31 million for the shirt portion of the deal leaves $17 million.
That figure is likely too high given that stand-alone shirt deals for Arsenal would be worth more than Liverpool given the former team has been superior in recent years. So let's call it $10 million. That would be a nice chunk of change for Real given the reportedly $22 million a year (net of taxes) contract they recently gave superstar Cristiano Ronaldo, and the $132 million they paid Tottenham before this season for Gareth Bale.
While the Microsoft deal could be a long shot, there has been a surge in technology companies looking for stadium partnerships in the U.S., particularly in the NFL where teams are trying to make their stadiums more tech-friendly. AT&T and the Dallas Cowboys hooked up on a stadium naming rights deal earlier this year. And Yahoo! has a technology deal with the San Fancisco 49ers new stadium.
Moreover, Real Madrid and Gates already have a relationship. Earlier this year, the Realmadrid Foundation and Microsoft signed a collaboration agreement to promote education in Latin America and the Caribbean through sports and technology.
Forbes